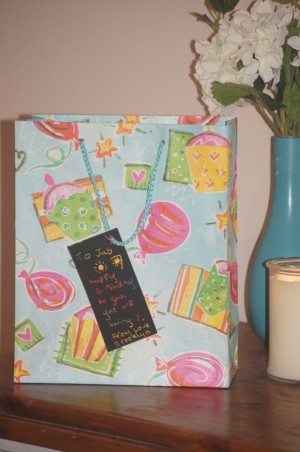 You can get a pack of 10 A4 sheets for under $5.00! When you cut those up into smaller pieces that makes it very very cost effective and it looks great too! We have had many great comments on our rainbow art and it makes for a more personal greeting card.
Simply cut the size you want, punch a hole in one corner and attach to the gift bag by undoing one of the handle ends, thread it through then tie a knot again. Easy!
Tired of spending a lot of money on overpriced greeting cards only to have them read then thrown in the bin? Try the DIY scratch art greeting card. I bought the Scratch Art from Kmart but I have also seen them on Ebay for a small cost (if ordering from overseas remember it may take a couple of weeks).  Simply use the tool provided to 'scratch' your message and the black just peels away leaving the beautiful rainbow colours behind.