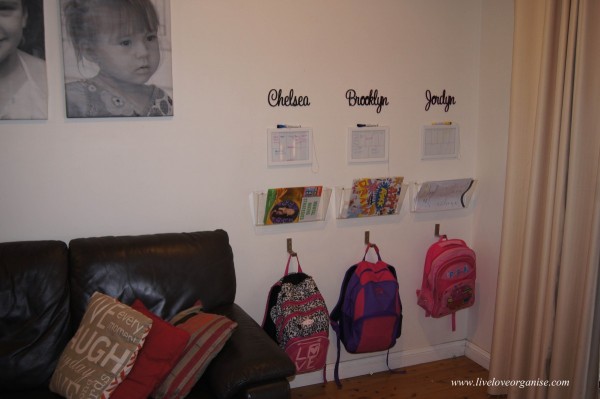 How to:
The kids come home, run through the door and throw their bags on the floor usually only a couple of metres in from the front door, if I'm lucky! "I'm hungry!" they all yell! Next thing you know I'm tripping over bags, hats, and craft from their busy day at school. And somewhere at the bottom of their bags are notes that I should be taking action on sometime in the not too distant future.
Sound familiar? That was my house until recently.  I've always wanted to make an organisation wall with calenders for each child and this is what I've done. It works great for us. As soon as the kids get home they put their bag straight on the hook! Fabulous!!
I've put their names at the top followed by a calendar/whiteboard with spaces for Monday to Sunday to list each child's activities or reminders (library, band etc). Next is a tray for their home reader or any notes they need to give me (which I now receive thanks to these holders!). Then at the bottom is a hook which can be lifted up against the wall and clicked shut when not in use (school holidays).
For the names I went online to ebay.com.au for a personalised MDF name and painted it myself with spray paint. Then Blutak'd it to the wall once dry. They cost around $8 each. (Price is per letter)
The clear document holders are from Staples.com.au. I bought them for around $15 each and they are the Foolscap size. They were the only size that would hold the home reader folders.
The whiteboard is 3 of the same photo frames from Kmart painted white. (around $3 each) Then I set up how I wanted the layout of the calendar to be on my computer and printed it out on nice paper. This paper goes into the photo frame where the photo would go so no more days of the week being accidentally rubbed out! I purchased 3 whiteboard markers with a rubber on each end from Hot Dollar and tied them to string and attached to the frames by tying it at the back. If you don't have somewhere you can tie it to at the back you could use a staple gun. The marker sits at the top of the frame (ours with a little Blutak) or it can just hang there.
I hope you enjoy making your organisation station as much as I did!!